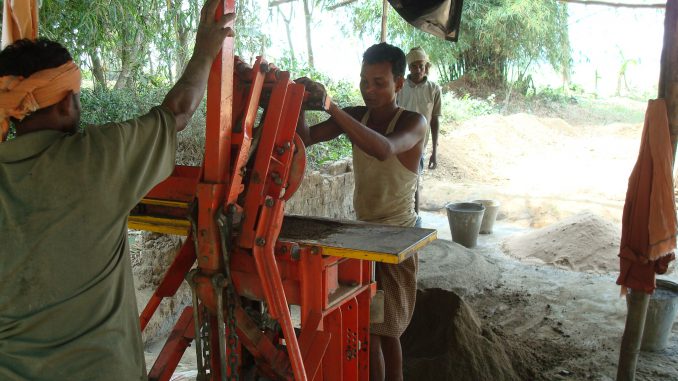 To create rural employment and income-generating activities
ADIRE's solar, biogas and biomass programs have generated local jobs in the JABAKA villages. Biomass, or agricultural waste, is plentiful and costs less than grid electricity. It has the potential to provide jobs in rural enterprises currently not possible in the absence of affordable and reliable power. Farmers can earn additional income through land rentals and the sale of agriculture waste as fuel. The following are some of the income generation programs currently going on in the village Jahangirabad, Balabhadrapur, Ganeswarpur, and their surrounding villages.
The following are some of the income generation programs currently going on in the village Jahangirabad, Balabhadrapur and their surrounding villages, Ganeswarpur, and its surrounding villages.
Solar Photovoltaic and LED-based programs
SPV based lighting and entertainment create additional labor time during nights and encourages human resource development through learning and better health. India's harsh summer weather is known to affect labor productivity. In summer, solar energy is plentiful and can be captured through SPV panels in solar portable lanterns and radio for use at night. In this way, workers can relax in their homes during the summer heat with solar-operated fans and work on the farm during the cooler nighttime hours. SPV lights can be used for outdoor work, sewing, weaving and almost any other type of income-related work.
Please see the Energy page to see more details about this program

Loans are provided to villagers through microfinancing in order to encourage entrepreneurship. Around 20 people from these JABAKA villages have taken microfinancing loans to start their own small businesses.
Women Empowerment through Microloans
Some ADIRE income generations programs target village women specifically. The SHAMA WELL program empowers women by helping them to build small businesses through microloans. This program started in July 2006, with approximately thirty women benefiting from this program during its first year. Interest-free loans ranging from Rs.3000/- to Rs.10,000/- are given to individual women depending on the nature of their proposed businesses. After a woman starts earning from her business, she pays back the amount she was loaned in monthly installments. The money she repays is given to the next woman on the waiting list for WELL loans. Some of the businesses the women have started include grocery shops, stationery shops, cows and the sale of dairy products, a biogas cooperative, hand-stitched garments, embroidery, soft toy making, Badi & Pappad (traditional snacks) making, mushroom farming, agriculture, catering for the village cafeteria, candle making, and more. etc.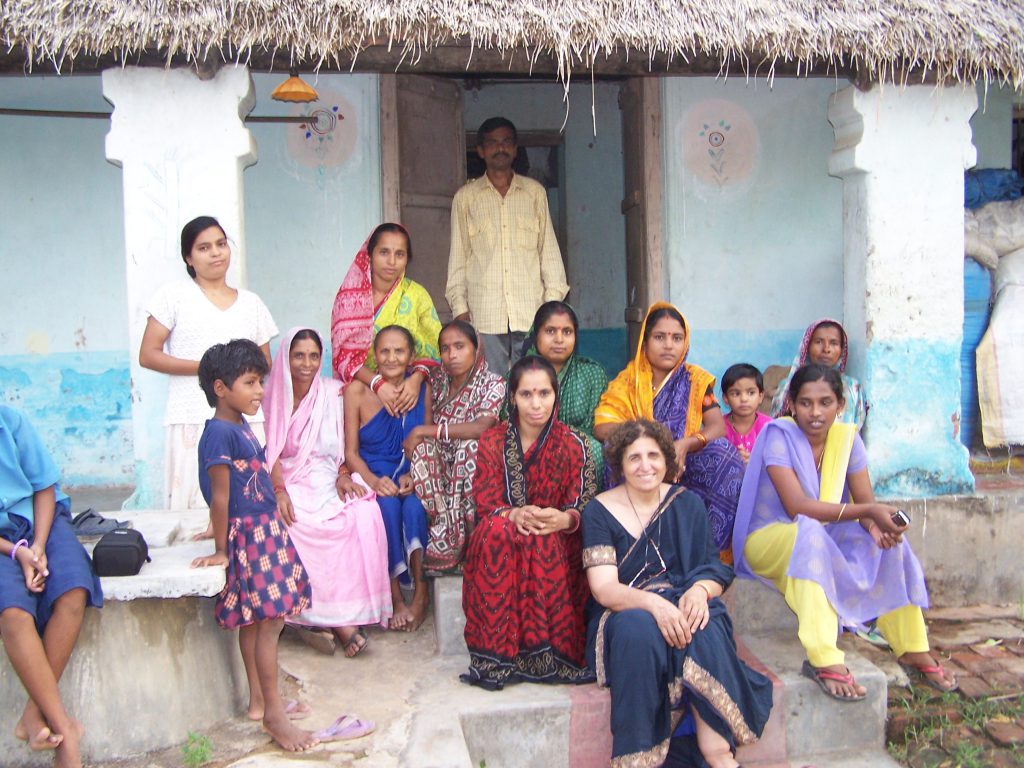 Adi 'Kruti – Apparels & Home Furnishings
ADIRE has engaged a group of women, called Adi 'Kruti in the design and stitching of apparel and various home furnishings. These products are sold locally as well as in outside markets. All items can be custom made by customer request. Online ordering for these products will soon be available so that customers can see samples and either select from current designs or modify these as they wish. Another group of girls make candles for sale in the local market. The girls are trained in candle making at Sri Aurobindo Ashram, located in the village of Gopinathpur, just 7 kilometers from the JABAKA villages. The girls and women are encouraged to take microloans to jumpstart this small cottage industry.
Road, Canal & Bridge
Infrastructure improvement is one of the most important parts of any community development work. It is the objective of ADIRE to make the JABAKA villages accessible and well-connected by roads, and to provide an affordable and healthy living environment. A road around 1kilometer in length was constructed in May 2005 to connect the village with the access road connecting to state highway. A tractor was purchased for construction (and to be used later in agricultural work). Depending on the workload, eight to ten local people get engaged in the road construction project on any given day.
In addition to the new road, a fair-weather bridge was planned to be built over the river Kundi, the placement of the bridge stood to save people almost 3-4 kilometers formerly traversed to reach the nearby access road. ADIRE mobilised the local people and persuaded the village panchayat (local self-government ) to construct a vehicle-accessible bridge over the river Kundi. Some of the villagers volunteered to donate their land for the access roads to the bridge. The villagers succeeded in obtaining a grant from the local Government for a bridge and concrete road in 2005.Bridge and road construction was completed at the end of 2006 and continues to serve1,000 people in their day-to-day commuting.
Low cost Housing using Compressed Stabilised Earth Blocks (CSEB)
ADIRE also provides low cost housing service to people. In March 2005, three local youth completed training in compressed earth block (brick) making and low cost home building at the Auroville Earth Institute, Chennai, India. The machine to make the bricks facilitating low cost housing was purchased from Auroville.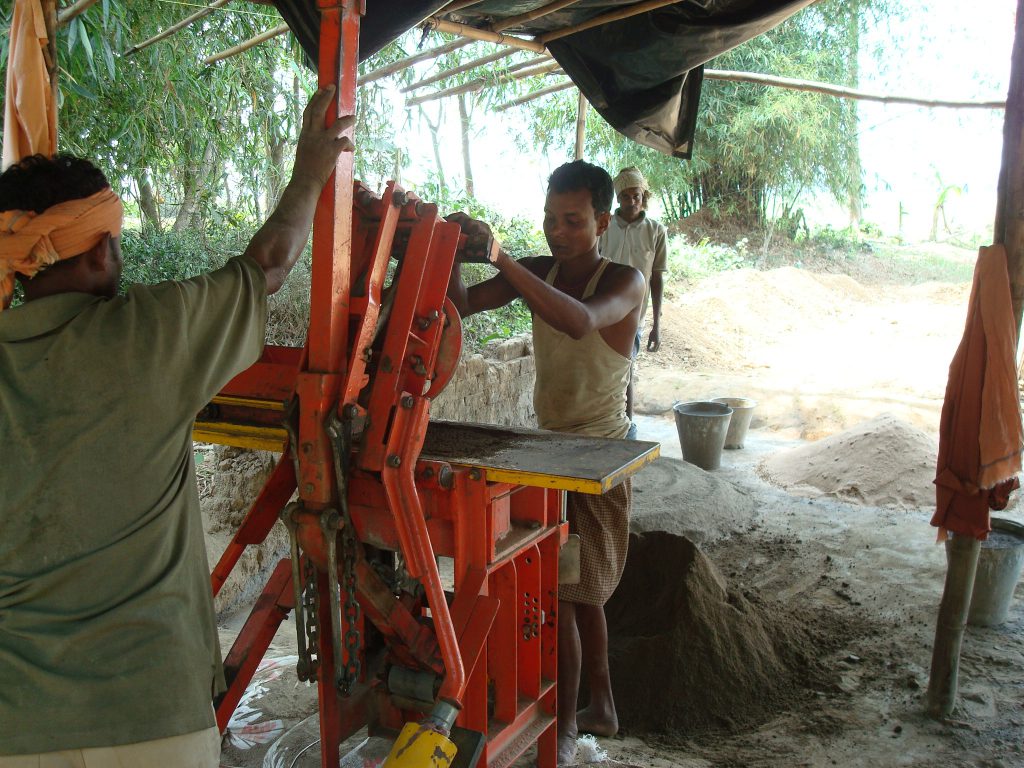 These three youth are now training other people in the village in brick making. As hands-on training experiences for the local youth, a canal wall and the park boundary have been constructed using these CSEB. Depending on the workload, eight to ten people engage in construction work. Besides housing for the people using this technology, ADIRE, and the JABAKA villages intend to construct a technical training center, a community health center, a guest house, a village cafeteria, and more.