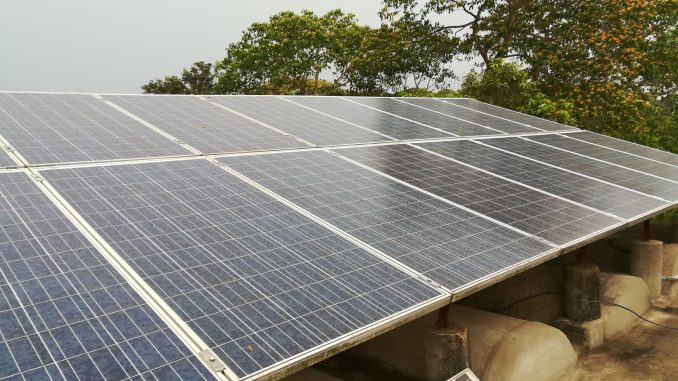 On May 3rd, cyclone Fani tore through the state of Odisha in eastern India, estimated to be the worst storm to hit the country since 1999. The storm brought winds of more than 120 mph, caused 43 deaths and rendered millions of people homeless. Cyclone Fani also left 3.5 million households without electric power.
Our small ADIRE Village of Jahangeribad was part of the affected area. ADIRE stands for Alternative Development Initiative with Rural Engagement. Fortunately, the sustainable energy infrastructure of the village has been a saving grace. While the storm destroyed the surrounding electrical grid system, ADIRE was able to have power provided by solar panels soon afterward. When roads were destroyed and gasoline trucks were not able to deliver fuel to affected areas, ADIRE was able to depend on their two electric cars charged with solar energy. The resiliency of ADIRE is an example of why India needs more sustainable energy sources.
While ADIRE shows great hope for recovery, there is much to be done. The estimated damages are upwards of $20,000 for our small village of about 400 families. With this fundraiser we aim to raise $10,000 for immediate repair work. The money will be used for urgent repairs of roofs, windows, solar panels and debris removal for the local school and 400 village families–An album of damage pictures appears at the end of this page. Any additional amount will go for building resilient smart solar villages in Fani affected areas of Odisha with appropriate recognitions to all the donors.
Rebuilding requires full community engagement and leading the efforts on the ground floor are my friends and philanthropists, Dr. Durga Kar and Dr. Shree Kar. To learn more about this sustainable model village, visit their website at adire.org. Funds from this campaign will go to the US affiliate non-profit, SHAMA Inc. and then distributed to ADIRE. Learn more about SHAMA Inc. at shamainc.org. Please make your donations convieniently and securily though this Facebook fundraiser by clicking the DONATE button at the end. Any size donation is welcome even $5, $10, or $20 or if possible more. Optionally you may simply mail a check to
Shama India Cyclone Relief
2460 Crescent Ct
Plover, WI 54467
When you donate, you can be confident that your donation is going directly to those who need it most. There are no administrative or marketing costs and your donation is fully tax deductable.
**If donating is not in your capacity, please heavily SHARE this fundraiser and INVITE on your own Facebook page to spread the word.
Thank you! Thank you greatly from the bottom of my heart and on behalf of those in greatest need you are helping in India.