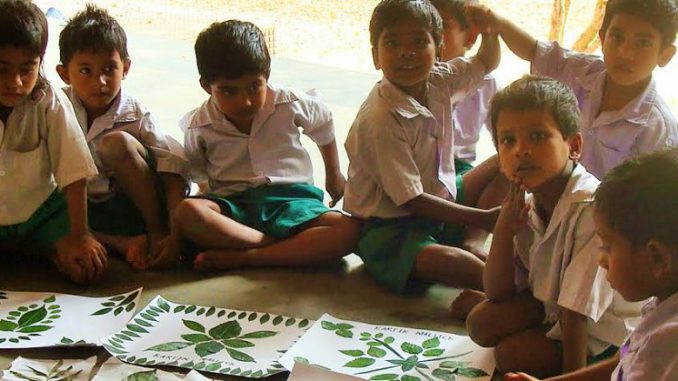 AdiVidya Mandir & Library
Education plays a key role in any developmental work. In March 2007, a small elementary school "AdiVidya Mandir" was started at village Jahangirabad, Orissa for 4-7 yr old kids with K.G and 1st grade. The school started with fifteen kids from the nearby villages, all from extremely poor and socially & economically challenged families. These children are the first time learners in their families. Our objective is to provide these children a conducive environment where they can grow physically, mentally and be at par with other children. The school has been affiliated with Sri Aurobindo Integral Education system and focus more on integral development of a child. Adding one grade every year, currently (2011) the school has six grades K.G – V and forty students are currently enrolled with outside sponsorship and funding from the founder of ADIRE.
Meals for the school children are prepared at the village cafe, which is a part of the women's bio-cooperative program. Vegetables for the meals are grown in house and looked after by the school staff and kids each day. Milk for the kids is purchased from the women who are part of the bio-cooperative program.
One library with an initial 500 books, magazines, newspapers and educational toys, blocks, puzzles was set up in 2007. Besides Adividya school children, library is open to kids and adults of all nearby villages. Every year since its opening, ADIRE has attempted to increase the library's collection base by 50%. In 2011, the library houses approximately 1000 books, 2 laptops, and 2 e-readers and study materials. In order to motivate the children, three to four events are organized in the village park annually. Each December, a Childrens' Day event is organized for the local children, who take part in various activities including sports, drawing and painting, music, dance etc.
IT and Digital media as a teaching aid and Cultural Exchange
In order to keep the children and villagers abreast of the latest information, one laptop and one desktop were provided for the communities in 2007. Since then, 2 more laptops have been obtained. Besides using computers as teaching aid with educational videos, games for the young children, these are also used to train the local youth in the development of basic computer operating skills, and also for managing ADIRE activities. The laptop is powered by a solar panel charged the battery and can be used anywhere in the villages without any dependence on grid electricity. The systems have wireless broadband connectivity through WiMax. This has given the village kids, youth and other tremendous exposure and awareness about what is going on in the outside world.
We have volunteers giving online computer training to village youth and ADIRE staff. Four youth have been trained and now are providing free on-site training to the kids and youth in the village. The Internet is also used to generate awareness of various health, hygiene, and nutrition-related issues, and to facilitate international learning and cultural exchange. Every year we try to do video conferencing using Skype with the children in the USA schools. In the past, we have done cultural exchanges through video conferencing of JABAKA village kids with the kids in Green Bay, USA as part of the Kids Explore Day event. Thanks to WPSC and Baird Elementary School, Green Bay for facilitating these events.
Evening School
Each evening, after the normal school hours, the school premises at Ganeswarpur village are kept open with the use of a Solar lighting System. Children from grades one through ten attend academic reinforcement lessons in all subjects. Two times a week at Adividya school adult education classes are held in the evening. Sometimes Adividya school children also teach their parents how to read and write and basic addition and subtraction etc.
Merit cum Means Scholarship
A new program "Merit cum means scholarship" to students of nearby village high schools was started in March 2007. "Merit cum means scholarship," was started in March 2007 for students of area high schools. Five girls from Kalyanpur and Balbhadrapur high schools were given scholarships of Rs.1000 and a free LED table lamp for the year 2007. Currently, (2011) students from 8 village high schools are nominated by their respective schools based on their merit and family living conditions.
Income-generating opportunities through Vocational Training
ADIRE expanded on basic education offerings by starting vocational and technical training programs in 2006. Youth from Jahangirabad, Balabhadrapur, and Ganeswarpur villages have undergone training on solar and biogas energy, compressed earth brick making, modern controlled agriculture, and artisanal work including dress designing and candle making. This training has allowed youth participants to secure local income-generating and job opportunities.
On April 05 four youth were trained on Compressed Earth Block Making at Auroville Earth Institute, Auroville.
On October 06 four youth were trained on controlled agriculture using modern appropriate technology at Dhenkanal, Orissa by Dr. Subhas Mohapatra. Dr. Mohapatra is a professor at North Carolina University and conducts courses in India to propagate this appropriate technology in rural areas.
Around fifteen women are being sponsored SHAMA WELL (Women Empowered through Living Loan) program from August 2006. Some of these women have undergone training on elementary teaching programs, embroidery and garment making, candle making, nursing, biogas plant managing, etc.