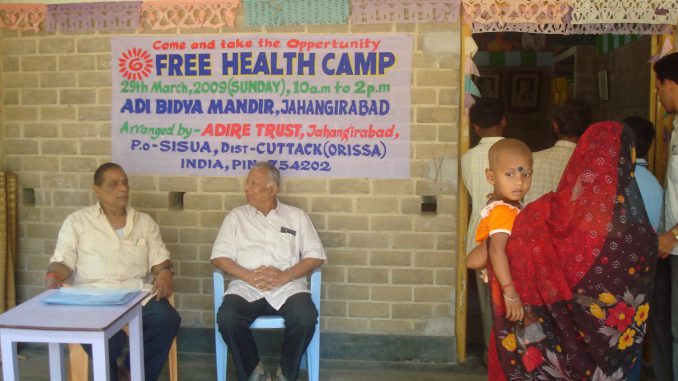 Community Health & Hygiene
To create a healthy living condition in rural areas
NEW at Health Center (2011) –
Bi-monthly Homeopathy Clinic
Mosquito bednet for all at a new adopted village "Sathiathikiri, Jajpur district, Orissa"
Tubewells at Ghusuriadhia, Balabhadrapur village, Salepur, Orissa
Four community toilet at Sathiathikiri village, Jajpur, Orissa
First Sanitation Drive: Open toilet converted to park & community meeting place
The first initiative of ADIRE focused on health and hygiene. In 2003, around 80% of the population in the JABAKA villages did not have toilets and were using a huge patch of common land for that purpose. 30 toilets and 12 tube wells were distributed to 30 families to start with. Materials were supplied by ADIRE and the families put in the labor to build their own toilets. The land that was being used as public toilet was converted to a park with swings, slides and see saws where children can play and enjoy. This place also became a hub for villagers to celebrate all community activities.
ADIRE Health & Hyigene Camps
In order to prevent the common diseases like cold, fever, diarrhea, skin problems etc. ADIRE started regular health camps and clinics Please insert following pictures from the folder pictures/health The first ADIRE health camp to educate people on health and hygiene issues was organized in Nov 2003 with Dr. Niranjan Tripathy- Medical specialist, Dr. Tophan Pati from Cuttack. They explained the benefits of using toilets to the villagers. This was followed with regular camps by pediatricians Dr Gana Bihari Pati, gynecologist Dr Annapurna Mohapatra, Dr Bani Samant, medicine specialist from Cuttack and Bhubaneswar cities.
Homeopathy Clinic
A homeopathy clinic was set up in August 2005 with the help of the Rotary Club- Cuttack Midtown. Dr. Gautam Rao visits once a fortnight and offers free consultation and medicines to the people. Local volunteers from JABAKA villages and ADIRE's staff currently coordinate and assist the doctors for effective running of the clinic and generate awareness among the people on health, sanitation and nutrition issues.
Health study circles and Hygiene awareness drive
In order to generate health and sanitation related awareness a weekly Study Circle is held in the village where a local health worker along with some ADIRE staff and RCC-JABAK volunteers discuss and advise various health & hygiene related issues with the local people. People are also encouraged to access related information through the internet available free for the villagers.
Specialized Health Camps
ADIRE organizes specialized camps once in a while focusing on a particular prevalent problem in the village. Camps for Eye and Chest had been organized in association with Rotary Club, Midtown Cuttack. Patients diagnosed with eye diseases are taken to the nearby city and treated free at Jayprakash Narain Eye Hospital, Cuttack. Patients with breathing problems are given free medication and inhalers.
Challenges Ahead
ADIRE is planning to set up a long overdue primary health center. The establishment of a permanent center has been delayed due to lack of enough funding to attract health professionals from the cities. Local women have now been selected to be trained in basic nursing, in order to take care of normal preventable diseases and to dispense non-prescription medications. For any emergency situations, one doctor will be available on call for advice and for care of patients with critical diseases. Those with serious conditions will be referred to this doctor at the medical college of the nearby city. The communities' electric car will be available twenty four hours a day to transport critical patients.
With the stable operation of the Wi-Max tower, we are also ready to bring in pediatricians, psychiatrists, and eye specialists from the USA online to begin tele-consulting. Many American volunteers have committed to work in the villages during summer vacation and to help us set up the telemedicine center. We think such remote counseling and a preventive approach to rural health care will be a more energy efficient, sustainable, and cheaper way to bring a healthier lifestyle to villagers without creating any additional carbon emissions or other pollutants for others. .